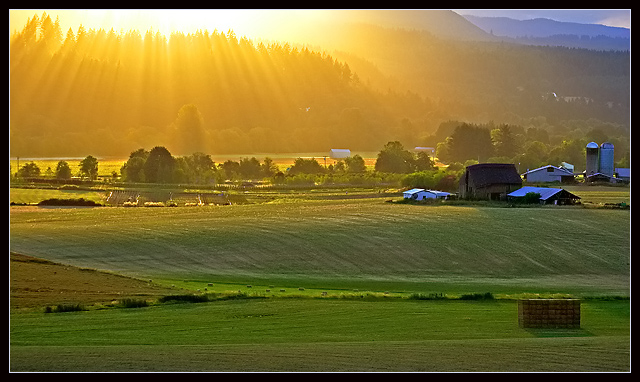 After the rat race of getting out the door yesterday morning, we had a very peaceful ride to vacation bible school. The kids have attended quite a few vacation bible schools the last few weeks, and they spontaneously sing loudly (there are some pretty catchy songs I must say!) and ask lots of questions about God.
I am so grateful that my daughter will attend a Catholic elementary school and that the younger kids will continue to attend a Christian preschool. Talking about God is just expected and normal! It's one thing to do this at home, but I appreciate the reinforcements.
We were driving along and I was trying to say my morning prayers. I say some out loud with the kids and then I *try* to add some of my own silent prayers. I was deep in thought about something that I heard on a Matthew Kelly tape the day before. He had been advocating the "classroom of silence." Meaning that God speaks to us in the silence.
I found this to be a fascinating truth (I remember sitting in the Adoration chapel in college and feeling as if God was speaking to me). However, at this point in my life, I find that I hear God most in the midst of chaos...a classroom of distractions, if you will!
If I had more silence, no doubt that I would encounter God. But, He has blessed me with this noise, and I believe that He can speak to my heart in the midst of the meltdowns, quarrels, baby coos, and off key songs too!
For example, as I was driving, thinking, and praying, I was half-listening to my kids talking to each other in the backseat. I had been silently asking God to help me to know His will for something on my heart. Just then, I heard my daughter switch from counting the cows (there are some beautiful farms on this route) to inquire how high heaven is in the sky. My son answered that it was very high, but God can still see us and talk to us.
Intrigued by his confidence, I asked him what God says. He said that God sometimes says "YES", God sometimes says "NO", and God sometimes says "WAIT". This was something he had taken away from one of the vacation bible camps. Funny that it didn't come up when he told me about the crafts and snacks (his favorite parts!).
But WOW...that was powerful for me to hear just then. I recognized that perhaps God's will for me in this instance is much simpler than I thought. I could easily pick which of the three (yes, no, and wait) was applicable. Among all the distractions in the car, I heard God answering me through my little boy.
I know that someday I may have more time to return to the classroom of silence (probably much sooner than I realize too!). But, in the mean time, I will try to appreciate the blessings in the distractions (most of the time!) in this classroom of life.